Welcome to January!
After a week or two of not knowing what day of the week it was, and feeling full of cheese and festive foods, we're back in the saddle and raring to go!
Whether you're diving into Veganuary, undoing some of the festive overload with dry January, or simply resolving to be a little healthier, we've got some good news that will make it easier to keep those resolutions! Our team has been busier than ever, and with new product launches in Co-op and Morrisons this month, we're here to support your health now and forever more, with delicious, premium fruit snack pots that make eating healthily, easy! In Co-op, we've expanded our range with four new snack pots; the new Fruit Cocktail Snack pots are a delicious and refreshing mix of premium Pear, Peach, Pineapple, Cherry and White Grape.
The new Pineapple snack pots that you've been asking for are finally here, and of course we're stocking your firm favourites – Peach and Mandarin – in snack size too! As always, our fresh fruit comes in natural juice with no added sugar. Morrisons have launched the Peach and Mandarin snack 4-packs in 320 of their stores in January – and you can still find them in Tesco, Co-op, and Waitrose, so there's really no excuse to fall off the wagon just yet!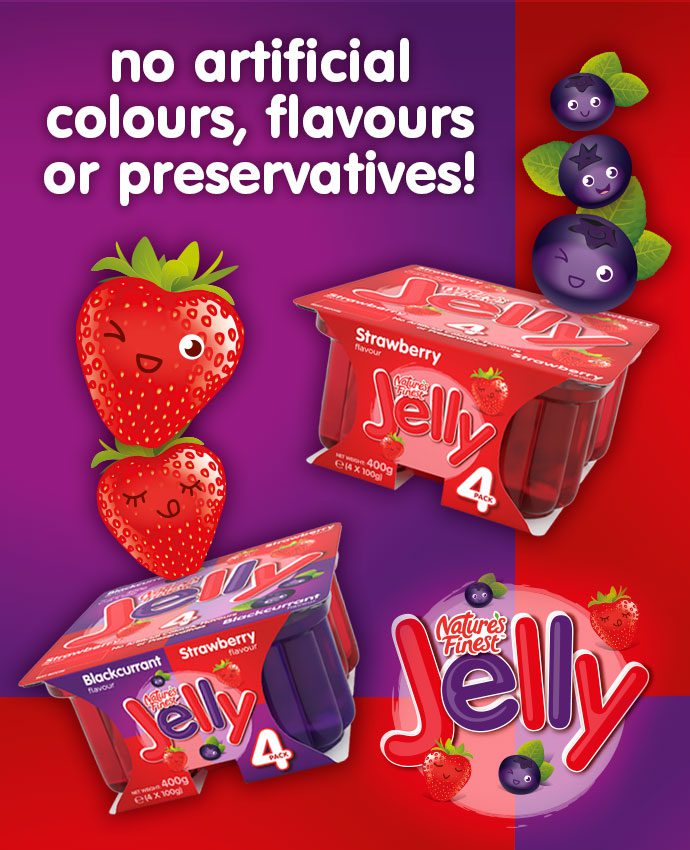 We can't thank you enough for all the positive support you've given us over the past few years. It's been tough out there for all of us, and we recognise that. We're really proud to stand by the principles of Nature's Finest Foods and will continue to source only the highest quality, freshest fruit for you. As you give us feedback, we're able to listen and develop new and exciting snacks, cupboard fillers, and opportunities to support you all – so please feel you can contact us at any time and let us know what you love, and what you'd like to see more of!
A great example of us listening to your requests is our chilled Jelly range: you asked, we delivered! 🎉 And now, we've just heard that we've hit the No.1 spot for chilled Jelly in the UK (we even outsold Peppa Pig 🐷!). We couldn't have done it without you – thank you!
At around £1 for 4 pots of Jelly, we've got snack time covered!
Don't Forget!
Sign up to our newsletter for the latest product launches and other ways to enjoy your favourite Nature's Finest Fruit.