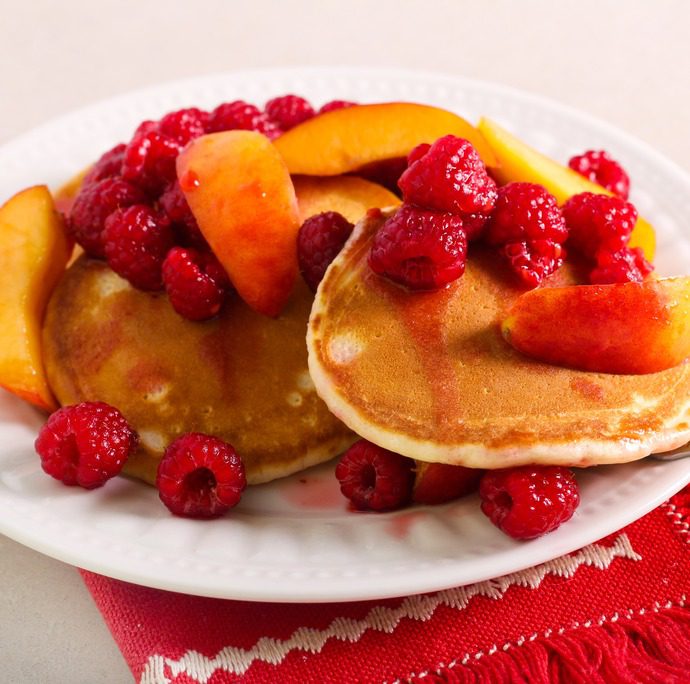 LIGHT & FLUFFY FRUITY PANCAKE STACK RECIPE
Prep Time: 15 mins
Cook Time: 10 mins
Serves 4
1 x Pot of Nature's Finest 400g Peach Slices
15g unsalted butter, plus extra for frying
300ml natural yogurt
1 medium free-range egg
2 drops vanilla extract
125g plain flour
1 tsp bicarbonate of soda
Pinch of ground cinnamon
A little milk (optional)
Vegetable oil, for frying
Maple syrup, for drizzling
Melt the butter in a small pan or in the microwave. Leave to cool slightly. Measure the yogurt into a measuring jug. Crack the egg into a small bowl and beat with a fork. Add the egg to the yogurt with the vanilla and melted butter and whisk with a fork.
Sift the flour, bicarbonate of soda and cinnamon into another bowl. Pour over the egg mixture and use a wooden spoon to mix well. Don't worry if the batter is slightly lumpy. Add a little milk if it's too thick. The mixture should easily drop off the spoon. Stir in the fruit.
Heat 1 tsp oil and a small knob of extra butter in a frying pan over a gentle heat until the butter just starts to fizz. Drop spoonfuls of the batter into the pan, spaced well apart. Cook over a medium heat for about 2 minutes until you start to see bubbles rise on the surface. Carefully slide a palette knife under each pancake and flip over. Cook for another 2 minutes, then lift the pancakes out onto a plate and cover with foil to keep warm. Don't forget to cook the rest of your batter to create your stack of pancakes!
Serve with lashings of maple syrup and a pile of your favourite Nature's Finest Fruit – we love them with Peaches!
View more recipes
If you like this, why not try our Quick Peachy Oats, or Prune and Chocolate Porridge recipe.
PEACH IN JUICE AVAILABLE IN:
700G, 400G, 220G & 4PK