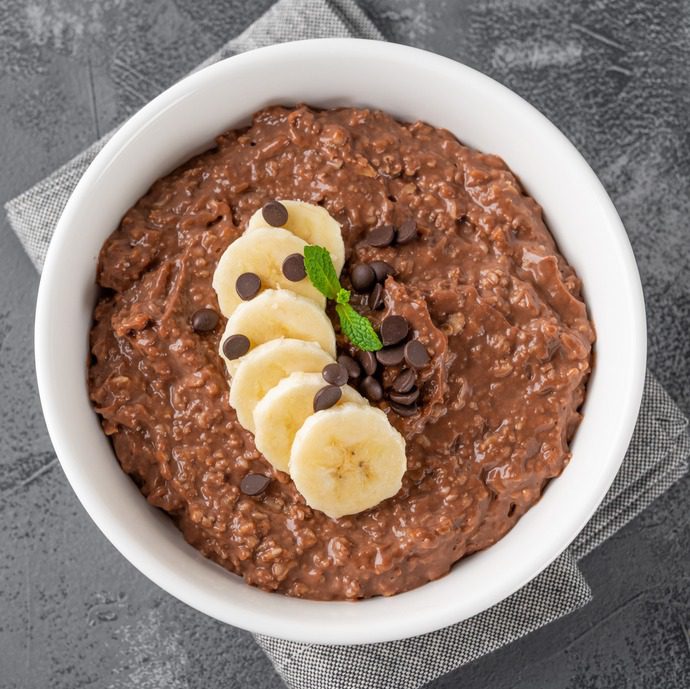 PRUNE & CHOCOLATE PORRIDGE RECIPE
Prep Time: 5 mins
Cook Time: 10 mins
Serves 2
Morning porridge tastes so much more exciting when you add something to it! Whether you are using quick and convenient microwavable oats or making porridge the old fashioned way, it's a great nourishing and filling way to start your day.
6 x Nature's Finest Pitted Prunes, thinly sliced
1 tbsp soft light brown sugar
2 tsp dark cocoa powder
1 tsp vanilla extract
100g porridge oats
500ml unsweetened almond milk
½ tsp ground cinnamon
80g dairy-free yogurt
2 tsp toasted almond flakes
Put the sugar and cocoa powder in a small pan, and gradually add the vanilla, stirring until the sugar has dissolved. Bring the mixture to a gentle boil over a medium heat. Reduce the heat and simmer for 6-8 minutes or until slightly thickened and syrupy. Remove from the heat and set aside to cool slightly.
Meanwhile, tip the oats into a medium pan and stir in the milk, prunes, cinnamon and a pinch of salt. Cook over a low-medium heat for 4-5 minutes, stirring until thick and creamy.
Divide the porridge between too bowls, and top with fruit of your choice, a drizzle of your favourite syrup, a sprinkling of flaked almonds, and a few chocolate drops for a treat!
Tip – Why not try our recipe for a leisurely breakfast at the weekend?
PRUNE IN JUICE AVAILABLE IN:
700G & 400G