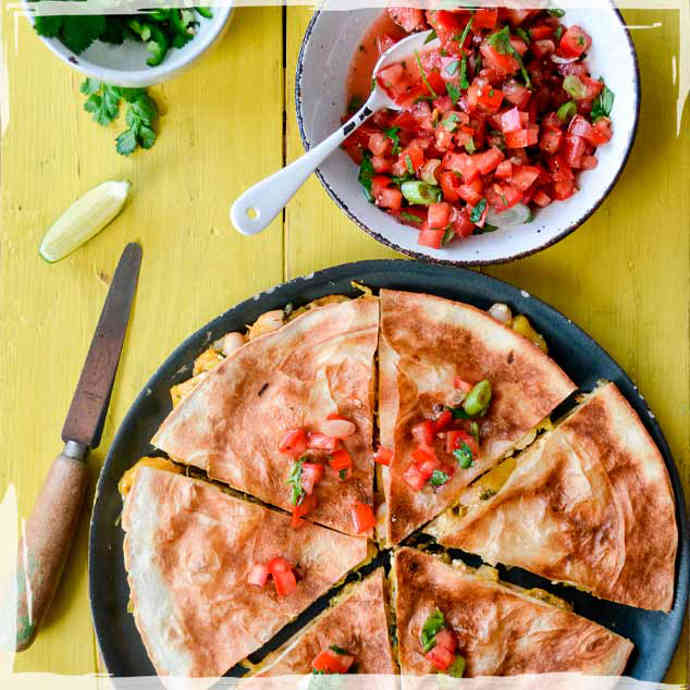 MANGO QUESADILLAS RECIPE
By Lucy Burton, Pudding Lane Blog
Serves 4 (2 large quesadillas)
Quesadillas:
1 x 400g pot Nature's Finest Mango, drained
6 spring onions & 1 green chilli
1 tbsp olive oil
1 teaspoon smoked paprika
1 tin white beans (drained)
100g feta, crumbled
1⁄2 a bunch of fresh coriander, roughly chopped
Zest and juice of 1 lime
4 tortilla wraps
Tomato salsa:
4 large ripe tomatoes
1 spring onion
Lime juice & 1 garlic clove, crushed
1/2 bunch fresh coriander, roughly chopped
Olive oil
Salt and pepper
1. For the salsa, finely dice the tomatoes and chop the onion. Place in a small bowl with the garlic, a drizzle of oil, a squeeze of lime and salt and pepper to taste.
2.Place the oil in a frying pan over a medium heat. Finely slice the spring onions, and deseed and finely slice the chilli, then add to the pan and cook for a couple minutes until the onion has softened a little and started to brown. Remove from the heat.
3. Place the white beans, paprika, mango, feta, parsley and cooked onion and chilli in a bowl. Mix to combine, then season with lime juice, salt and pepper to taste.
4. Lightly oil one side of each of the tortilla wraps, then turn over and spread two with the filling over. Top with the other two wraps, oiled side outwards. Return to the saucepan over a medium heat, cooking on each side for a couple minutes to toast. Repeat with the second quesadilla.
5. Remove from the heat, slice up and serve immediately with the tomato salsa.
MANGO IN JUICE AVAILABLE IN:
700G, 400G & 4PK