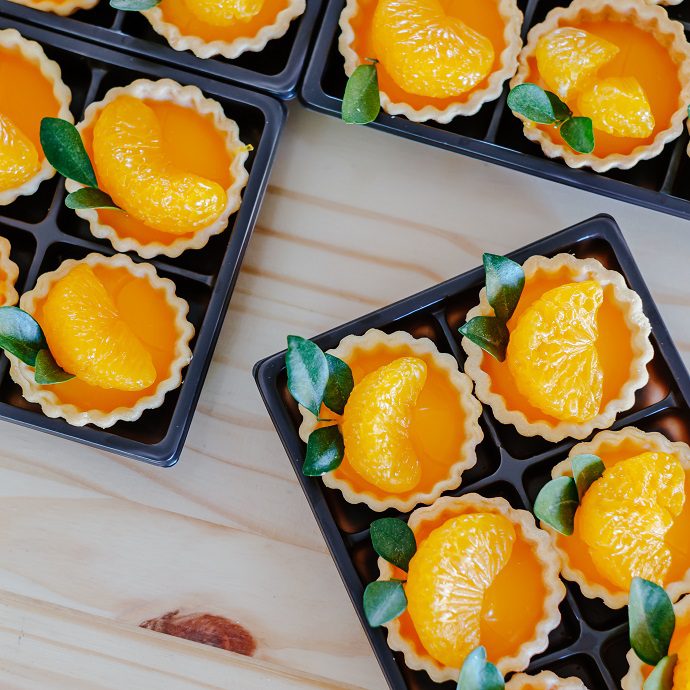 MANDARIN NO BAKE CHEESECAKE RECIPE
Prep Time: 15 mins
Refrigeration Time: 30 mins
Serves 6 (2 per person)
Ingredients:
350g Pack Ready Made Choc Chip Cookie Dough
390g pot Nature's Finest Mandarins
250g Mascarpone cheese
200ml of double cream
300g Cream Cheese
40g Icing sugar
Zest and juice from 2 Oranges
To decorate: Mandarin slices
🍊 Take a 350g pack of ready-made Choc Chip Cookie Dough, divide it into 12 pieces, rolling each into a ball
🍊 Turn a muffin tray upside down, and shape each of the 12 dough balls over the domes to make little cookie tart cases! Place in the freezer for 15 mins (fridge 30 mins), and then bake at 180 Celsius for 15 minutes. Leave on a wire rack until completely cold
🍊 Drain a 390g pot of Nature's Finest Mandarins, putting the juice to one side
🍊 Whip 200ml of double cream until stiff, and then fold in 300g of cream cheese, 40g icing sugar, and 4 tbsp of the Mandarin Juice
🍊 Pop a generous spoonful of the mixture into the tart cases and top with a juicy Mandarin segment
🍊 Set in the fridge for about 30 minutes, then enjoy a little taste of summer!
Do you like this recipe?
Download our fruity dessert recipe book for more delicious ideas
MANDARIN IN JUICE AVAILABLE IN:
700G, 390G, 200G & 4PK