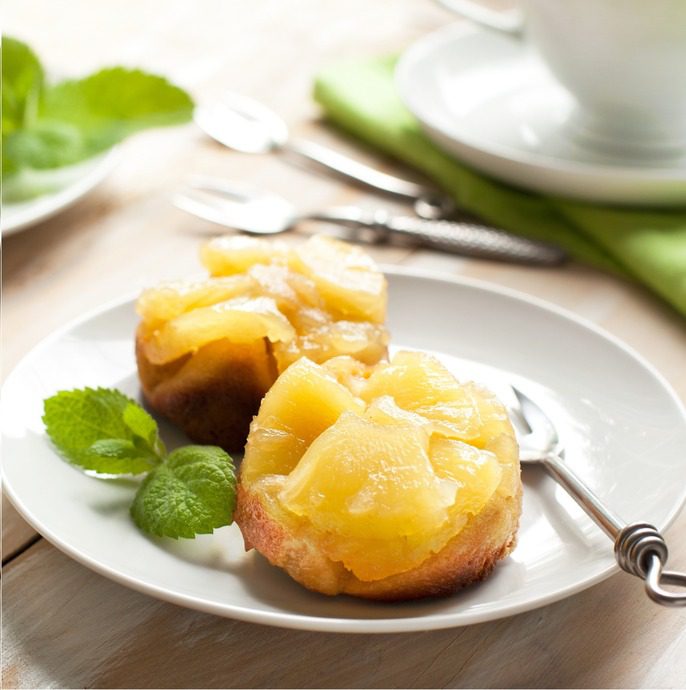 UPSIDE DOWN PINEAPPLE MUFFINS RECIPE
Prep time: 20 mins
Cook time: 20 mins
Serves 12
1 x 400g pots Nature's Finest Pineapple (drained)
2 x tbs brown sugar
65g oats
190g of plain flour + 190g whole wheat flour (or you can just double up on the plain flour)
2 tsp baking powder
1/2 tsp baking soda
1/4 tsp salt
1 tbs ground cinnamon
2 eggs
2 tablespoons chopped walnuts (optional)
100g light brown sugar
125ml of vegetable oil
2 tablespoons Pineapple juice
1 teaspoon vanilla extract
225g can of crushed Pineapple
3 medium sized grated carrots
100g of raisins
75g chopped walnuts (optional)
1. Preheat the oven to 400 degrees F (200 degrees C). Grease 12 muffin cups. Drain Pineapple chunks, setting juice to one side.
2. Sprinkle 1 teaspoon of brown sugar into the bottom of each muffin cup. Sprinkle in 1/2 teaspoon of walnuts over the sugar, and then place two wedges of Pineapple into each cup. Set aside.
3. In a large bowl, stir together the oats, whole wheat flour, plain flour, baking powder, baking soda, salt and cinnamon. In a separate bowl, whisk together the eggs, brown sugar,  oil, Pineapple juice and vanilla. Stir the wet ingredients into the dry just until moistened. Fold in the crushed Pineapple, carrot, raisins and walnuts. Spoon evenly into the prepared muffin cups.
4. Bake the muffins until the tops spring back when lightly pressed, about 20 minutes. While the muffins are still hot, loosen the edges from the pan using a small knife and invert onto a serving tray so that the Pineapple is on top. We like to eat ours warm with cream or custard!
PINEAPPLE IN JUICE AVAILABLE IN:
400G & 200G