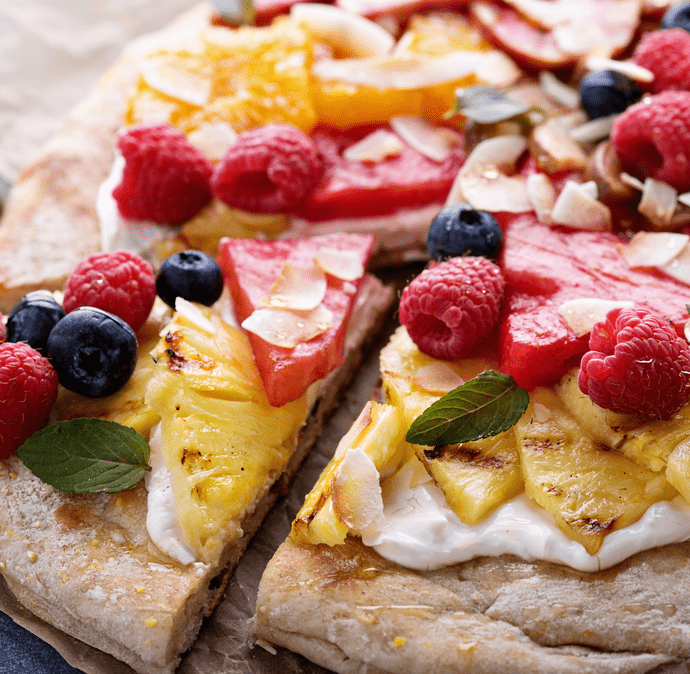 THE FINEST FRUIT PIZZA RECIPE
Prep time: 30 mins
Cook time: 15 mins
Serves 16
120g butter softened
100g caster sugar
90g brown sugar
2 eggs
1 teaspoon vanilla extract
1 teaspoon baking powder
1 teaspoon salt
305g plain flour
Cream Frosting Layer
225g of cream cheese e.g. Philadelphia
100g icing sugar
Fruit for Decoration – Your favourite Nature's Finest fruit!
Preheat oven to 375F/180C degrees. For the pizza crust, cream butter and sugars together. Mix in eggs and vanilla extract and beat well.
Add dry ingredients. Form dough into a large ball and wrap in plastic wrap. Refrigerate for 1 hour.
With a rolling pin, roll dough out in a large circle and gently place on a round pizza tray that has been lightly sprayed with non-stick cooking oil.
Bake for 12-15 minutes until the edges and top start to lightly brown. Let cool completely.
Mix cream cheese and icing sugar together until smooth. If you want a sweeter frosting, you can add more icing sugar.
Then spread on cooled sugar cookie crust.
Tropical Fruit Pizza: Drain the fruit from the juice, and gently pat dry. Add the delicious chunks of papaya and pineapple, and another other fruit you like to your frosted pizza just before serving. We like to start in the center with a layer of fruit and work our way out. Sprinkle with coconut flakes and enjoy!
Do you like this recipe?
Download our fruity dessert recipe book for more delicious ideas
TROPICAL FRUITS IN JUICE AVAILABLE IN:
700G, 400G, 200G & 4PK