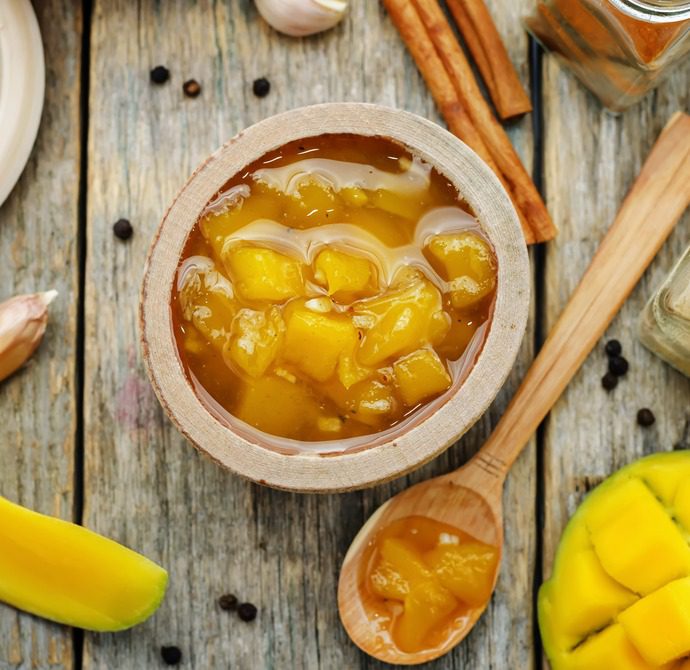 QUICK N' EASY MANGO CHUTNEY RECIPE
Prep Time: 15 mins
Cook Time: 10 mins
Serves 8
This is a tasty and easy Mango chutney that calls for only six main ingredients. Naturally gluten-free, this Mango chutney pairs so well with everything from burgers to curries.
2 x Nature's Finest 700g Mango jars (drained and chopped)
1/2 a red onion
2 tsp grated fresh ginger
1 clove garlic
1/4 cup maple syrup or honey
1/4 cup red wine vinegar
To Taste: salt and pepper
Tip (Optional) – 1/2 tsp coriander, 1/2 tsp smoked paprika, 1/8 tsp cardamom, 1/4 tsp cinnamon and 1/4 tsp chili powder.
Peel and dice half the onion and the garlic.
Add the diced onion, ginger, garlic, mangoes, maple syrup, red wine vinegar, (and if using the optional coriander, smoked paprika, cardamom, cinnamon, and chili powder) to a heavy bottom pan over low-medium heat.
Let simmer for about 7-10 minutes, stirring often. Then remove from heat and let cool slightly. As it cools, it should thicken up some.
Season with salt and pepper to taste and enjoy with your favourite curries or burgers!
MANGO IN JUICE AVAILABLE IN:
700G, 400G & 4PK