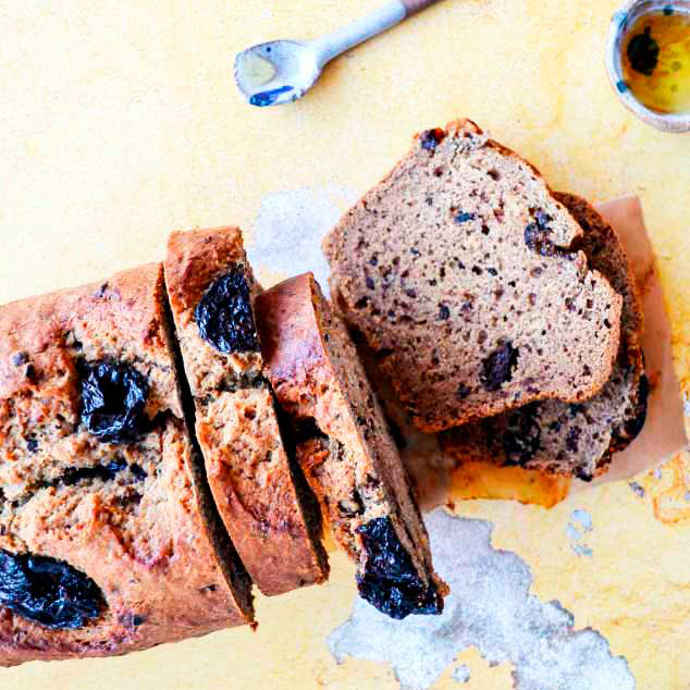 PRUNE, BANANA AND COCOA NIB BREAD RECIPE
By Lucy Burton, Pudding Lane Blog
Serves 6
150g Nature's Finest prunes, drained and dried
175g pitted dates
115g boiling water
115g coconut oil, plus extra for greasing
2 eggs
1 tbsp vanilla extract
2 large bananas
260g plain flour
1/2 tsp fine sea salt
1 tsp bicarbonate of soda
1/2 tsp baking powder
50g cocoa nibs
1. Place the dates in a saucepan, then pour over the hot water. Leave to soak for 10 minutes, then blend into a puree.
2. Heat the oven to 180°C / 160°C fan. Grease a 1kg loaf tin with a little coconut oil, then line with a strip of baking parchment.
3. Add the coconut oil to the date puree, and place over a low heat, stirring until the coconut oil has melted. Remove from the heat.
4. Peel the bananas, and mash with a potato masher in a large mixing bowl.
5. Add the date mixture, eggs and vanilla extract and beat to combine.
6. In a separate bowl, whisk together the flour, sea salt, bicarbonate of soda and baking powder.
7. Add to the wet mixture and beat to combine.
8. Slice the Nature's Finest prunes in half, then add to the batter with the cocoa nibs and stir through.
9. Pour the mixture into your tin and bake in the centre of the oven for 45 minutes – 1 hour.
10. The banana bread is cooked when a toothpick inserted into the middle comes out clean, or with a couple cooked cake crumbs attached.
11. Cool the cake fully before slicing and serving. The banana bread will keep well for 4-5 days and can be toasted and served with butter for a further 2 days beyond this.
PRUNE IN JUICE AVAILABLE IN:
700G & 400G