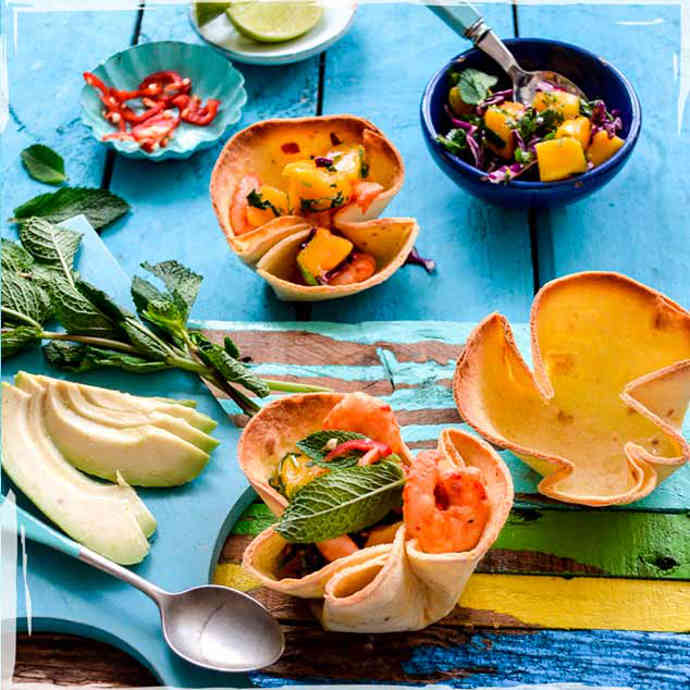 PRAWN TOSTADAS WITH MANGO SALSA
By Lucy Burton, Pudding Lane Blog
Serves 4
1 x 400g pot Nature's Finest Mango, drained
100g red cabbage (about ¼ of a cabbage)
1 clove of garlic
1 small red chilli
350g peeled raw king prawns
1 tsp smoked paprika
Drizzle of olive oil
8 tortilla wraps
1 lime, juice and zest
Fresh coriander
Fresh mint
1 large avocado
Lime wedges, to serve
1. Grate or very finely slice the cabbage, and place in a bowl of cold water for 30 minutes. This will stop the colour bleeding into the other ingredients
2. Crush or finely dice the garlic and red chilli, then place in a bowl with the prawns, smoked paprika and olive oil and coat the prawns. Cover and place in the fridge to marinade for at least an hour.
3. To make the tostadas, heat the oven to 200°C. Lightly brush an oven proof bowl with oil, then press the tortilla wrap inside the bowl. Lightly brush with a little more oil and sprinkle with salt, then place in the oven and bake for 6-7 minutes, until the tortilla is golden. Remove from the oven and allow to cool in the bowl for 5 minutes, before carefully transferring to a cooling rack. Repeat until all the tortilla wraps have been baked.
4. Drain and thoroughly dry the cabbage, then place in a bowl with the mango. Mix with the lime juice and zest and a little chopped fresh coriander and mint. Set aside while the prawns cook.
5. Add a little oil in a hot frying plan, then add the prawns and flash fry for 1-2 minutes until pink – this means they are cooked. Serve immediately in a tostada topped with slaw, slices of avocado and extra herbs and chilli to taste.
MANGO IN JUICE AVAILABLE IN:
700G, 400G & 4PK