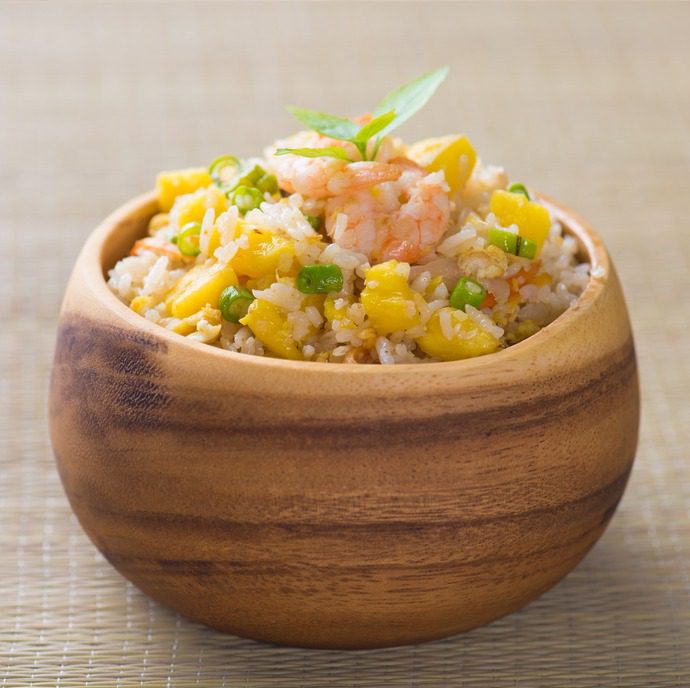 PRAWN & PINEAPPLE STIR FRY RICE RECIPE
Prep time: 10 mins
Cook time: 10 mins
Serves 4
2 x 400g pots Nature's Finest Pineapple (drained)
1½ tbsp sunflower or vegetable oil
2 eggs, beaten
2 garlic cloves, crushed
small bunch of spring onions, chopped
1⁄2 tsp Chinese five-spice powder
400g cooked long-grain rice or 2 x microwavable rice pouches
85g frozen peas
2 tsp sesame oil
2 tbsp low-salt soy sauce
400g of cooked prawns (100g per person)
Heat 1 tbsp oil in a wok. Add the eggs, swirling them up the sides, to make a thin omelette. Once cooked slide the omelette onto a board and cut into thin strips
Heat the remaining oil in the pan, adding the garlic, onions and five-spice. Stir-fry until sizzling and smelling delicious! Then add the rice, peas, sesame oil and soy sauce. Cook over a high heat until the rice is hot and tender. Stir through the Pineapple, omelette ribbons and prawns and serve – don't forget the chop sticks!
Tip – Why not swap the prawns for some cooked chicken?
PINEAPPLE IN JUICE AVAILABLE IN:
400G & 200G