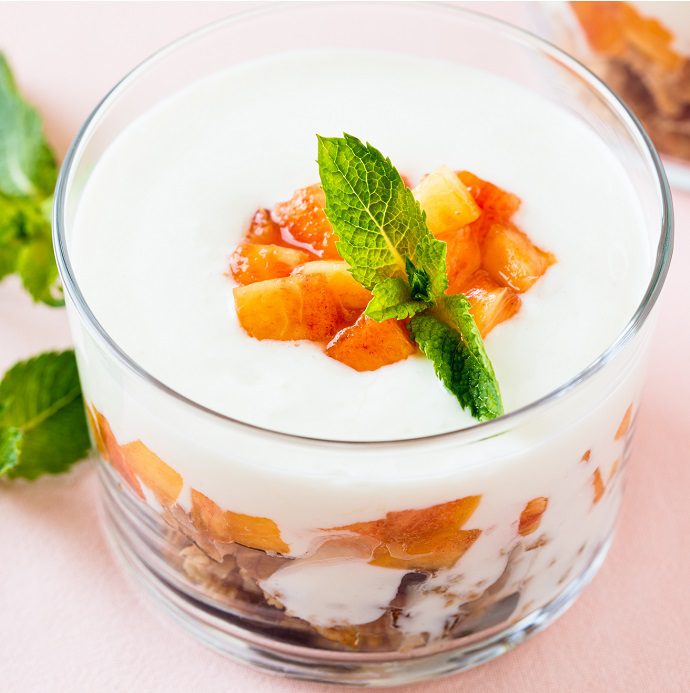 PEACH TRIFLE WITH GRANOLA RECIPE
Prep Time: 10 mins
Cook Time: 0 mins
Serves 4
180g of honey & almond granola
1 x 400g pot Nature's Finest Peach slices, drained
350g custard (tinned custard is fine)
284ml double cream
To decorate: shaved coconut & extra peach slices
1. Divide the granola evenly between four glass bowls.
2. Drain the Nature's Finest peaches but keep the juice to one side
3. Pour the juice into a small dish, then drizzle some juice over the top of the granola.
4. Arrange the peach slices on top of the granola, making sure they cover the whole layer.
5. Carefully add a generous portion of custard to over the peaches in each bowl.
6. Add the cream to a bowl, then whip it until it forms soft peaks. Smother on top of your custard and decorate to delight!
7. Dig in and Enjoy!
View more recipes
Do you like this recipe?
Download our fruity dessert recipe book for more delicious ideas
PEACH IN JUICE AVAILABLE IN:
700G, 400G, 220G & 4PK