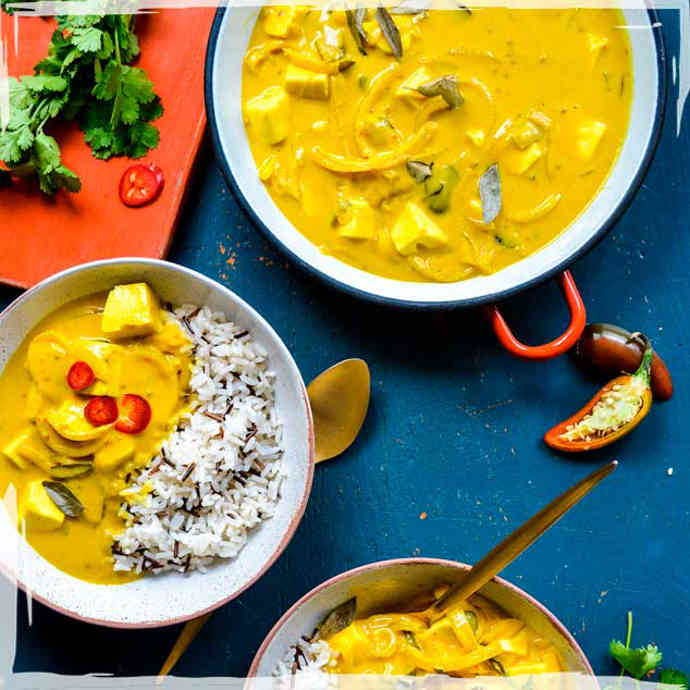 MANGO TOFU CURRY RECIPE
By Lucy Burton, Pudding Lane Blog
Serves 4
2 x 400g post of Nature's Finest Mango
1 tbsp coconut oil
2 tsp mustard seeds
2 tbsp dried curry leaves
1 tsp turmeric
1 onion
400g coconut milk
1 red chilli (optional)
2 cloves garlic
Thumb sized piece of fresh ginger
200g firm tofu, diced
25g ground almonds
Salt and pepper
Cooked rice and/or naan breads/flatbreads to serve
1. Melt the coconut oil in a pan. Add the mustard seeds, curry leaves and turmeric, and cook for a couple minutes. Meanwhile, thinly slice the onion, then add to the pan. Cook for around five minutes, until soft and translucent.
2. Once the onion is soft, drain one pot of the mango, and place in a blender or food processor with the coconut milk, chilli, garlic and ginger. Blitz until smooth.
3. Add to pan and cook for 15-20 minutes over a gentle heat.
4. Drain the second pot of mango and add to the pan. Slice the tofu into cubes, then add to the pan. Cook for 5 minutes until the tofu pieces have swelled a little.
5. Stir in the ground almonds to thicken. Season to taste.
6. Serve with wedges of lime, extra chilli and rice or breads.
MANGO IN JUICE AVAILABLE IN:
700G, 400G & 4PK