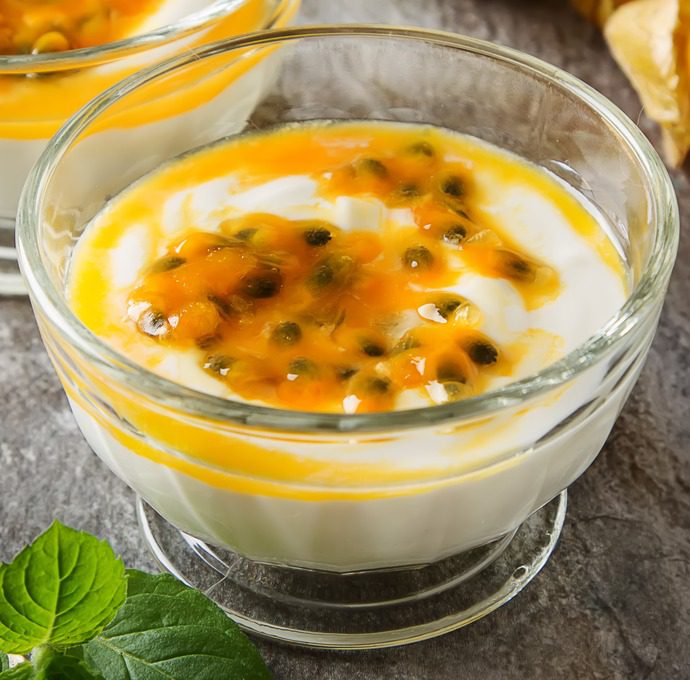 "LIGHT AS AIR" MANGO & PASSION FRUIT MOUSSE RECIPE
Prep Time: 10 mins
Serves 6
2 x Nature's Finest 400g Mango – Drained
Finely Grated Zest Of ½ Lime
250g (9Oz) 0% Fat Greek Yogurt
2 Medium Egg Whites
50g (2Oz) Caster Sugar
3 Passion Fruits
Blend the flesh and Lime zest until smooth, then empty into large bowl and whisk in yogurt.
Put egg whites into a large, grease-free bowl and whisk until stiff but not dry. Add sugar and whisk until thick and glossy. Using a large metal spoon, fold the whites into the Mango mixture. Divide among six glasses and chill until needed.
Cut Passion Fruits in half and scrape the pips and juice into a bowl. Top each mousse with a teaspoonful of Passion Fruit and serve.
Do you like this recipe?
Download our fruity dessert recipe book for more delicious ideas
MANGO IN JUICE AVAILABLE IN:
700G, 400G & 4PK