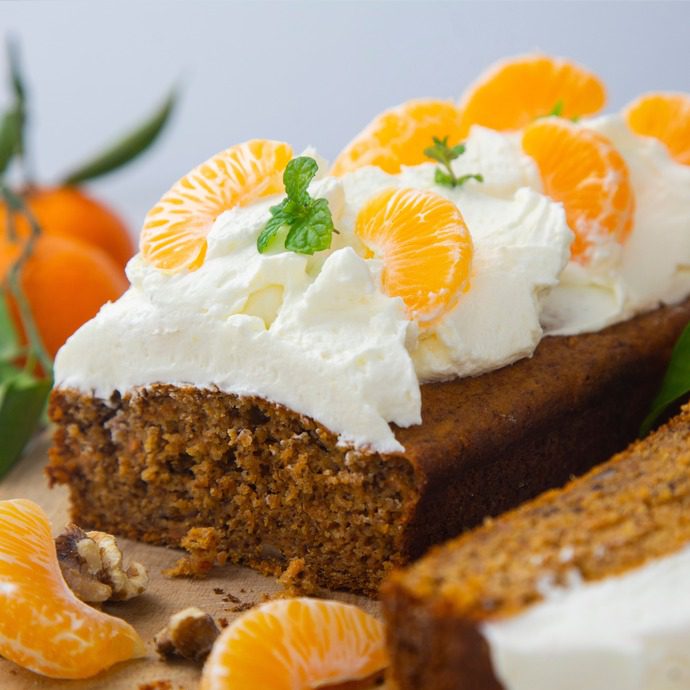 ZESTY MANDARIN CAKE RECIPE
Prep Time: 15 mins
Cook Time: 30-35 mins
Use an 8 inch square cake tin
Serves 6-9
Ingredients:
280g plain flour
2 tsp baking powder
Pinch of salt
150g caster sugar
3 eggs
60ml of vegetable oil
1 & 1/2 pots of 390g Nature's Finest Mandarins (drained – keep half the juice to one side and reserve around 9 mandarin segments for the top decoration)
To top:
150ml fresh whipping cream
3 tsp icing sugar (optional)
Set the oven to 180C, Gas 4, 350F.
Grease & flour your baking tin. Rub some butter all over the insides of your tin, then put a spoonful of flour in the centre of one, roll the tin around so the flour sticks to the tin and do the same. Discard the excess flour.
Sift the flour, baking powder & salt. Set aside, and weigh out the mandarins approx 300g of mandarin segments for the cake batter mixture. For the cake topping keep the remaining segments for the decoration, set to one aside, and reserve HALF the juice from the pot. In the mixer bowl, add the oil & 3 eggs, sugar, and mandarins plus the half juice reserved. Beat until all combined.
On a slow speed, mix in ⅓ of the flour mixture. When it is all combined, add another ⅓. Combine on a slow speed.
With a metal spoon, gently fold in the remaining ⅓ of the flour into the cake mix. Be patient, fold gently so you incorporate air and not cause the cake to end up with a 'rubbery' texture.
Pour the batter evenly into the cake pan and place in the oven for 30 – 35 minutes. Use the clean toothpick test to check your cake is done.
When the cake is ready, take out of the oven and leave for 2 minutes to relax in the pan then turn out of the pan on a cooling rack. Allow to completely cool.
Whip up the fresh cream, adding some powdered / icing sugar if you wish for a sweeter cream.
Then when the cream is stiff, spread over the top of the cake and arrange the mandarin slices to your liking. Serve when you are ready!
MANDARIN IN JUICE AVAILABLE IN:
700G, 390G, 200G & 4PK