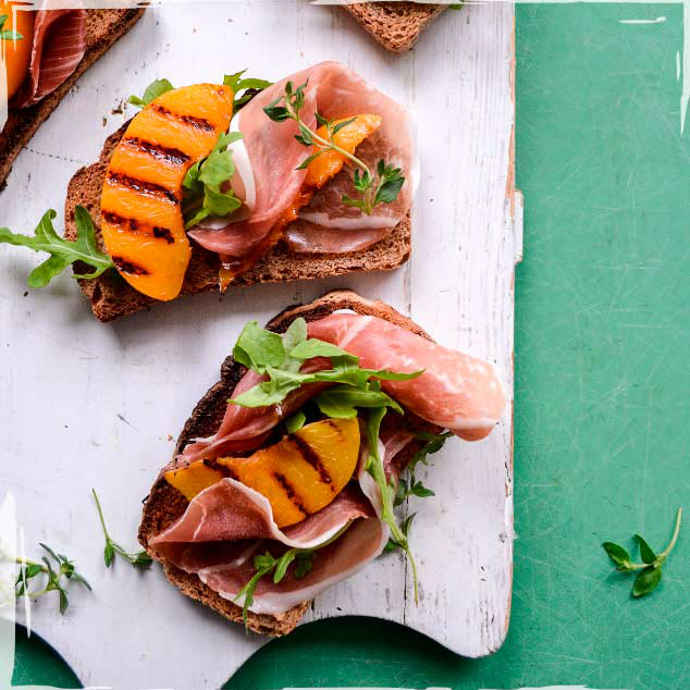 GRIDDLED PEACH, PARMA HAM & ROCKET OPEN SANDWICH
By Lucy Burton, Pudding Lane Blog
Serves 4
1 x 400g pot Nature's Finest Peach slices, drained
8 x slices good quality dark rye bread
Olive oil
Lemon juice
Handful of rocket
70g Parma ham
4 sprigs thyme (optional)
Drizzle of runny honey (optional)
1. Drain the peaches fully, then pat dry gently with kitchen towel. On a plate, brush the peach slices with a drizzle of olive oil and season lightly with salt and black pepper.
2. Heat a griddle pan until very hot, then use tongs to place the peach slices in the pan. Cook for 3-4 minutes on each side, until well caramelised. Remove from the pan and set aside until you are ready to assemble the sandwiches.
3. Toast the bread. Drizzle with olive oil and a squeeze of lemon juice.
4. In a small bowl, dress the rocket with a little olive oil and lemon juice.
5. To assemble, top the toasts with griddled peach pieces, folds of Parma ham and a little dressed rocket. Top with a sprinkling of thyme (if using), season with salt and pepper and serve.
PEACH IN JUICE AVAILABLE IN:
700G, 400G, 220G & 4PK