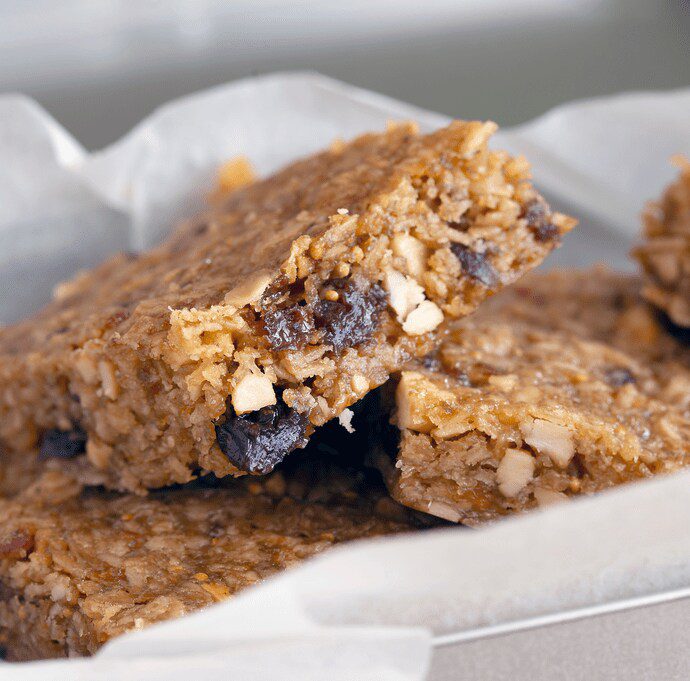 FEELING GOOD FLAPJACK RECIPE
Prep Time: 10 mins
Cook Time: 55 mins
Serves 12 pieces
100g chopped Nature's Finest Pitted Prunes
50g butter, plus a little extra for greasing
2 tbsp smooth peanut butter
3 tbsp honey or maple syrup
2 ripe Bananas, mashed
1 Apple, peeled and grated
250g rolled oats
85g dried Apricot, chopped
85g mixed seed (we love pumpkin and sunflower)
Heat oven to 160C/140C fan/gas 3. Grease and line a 20cm square tin with baking parchment. Heat the butter, peanut butter and honey or maple syrup in a small pan until melted. Add the mashed Banana, Apple, Prunes and 100ml hot water, and mix to combine.
Tip the oats, the fruit and the seeds into a large bowl. Pour in the combined Banana and Apple and stir until everything is coated by the wet mixture. Tip into the cake tin and level the surface.
Bake for 55 mins until golden. Leave to cool in the tin. Cut into 12 pieces to serve or store in an airtight container in the fridge. They will keep for up to 3 days.
PRUNE IN JUICE AVAILABLE IN:
700G & 400G