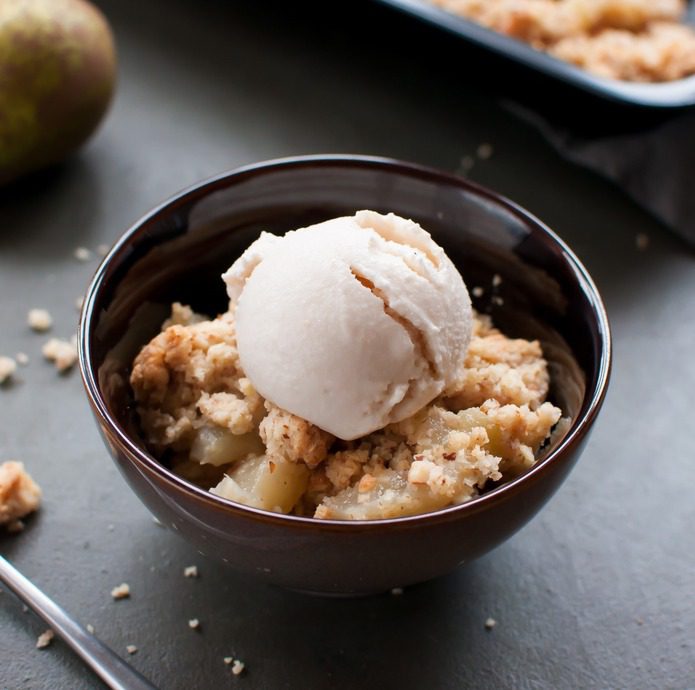 EASY PEAR COBBLER RECIPE
Prep Time: 15 mins
Cook Time: 30 mins
Serves 4
3 x pots of Nature's Finest Pears (drained)
300g caster sugar (divided into 2)
100g unsalted butter
100g plain flour
2 teaspoons baking powder
1 teaspoon ground cinnamon
1/4 teaspoon salt
175ml milk
1 large egg
To Decorate & Serve (Optional)
Ice-Cream or Whipped Cream
Pre heat oven to 325 F (165 C /Gas Mark 3), and place the rack in the middle. In a large bowl, mix the pears with 1/2 cup of the sugar and let stand.
Put the butter in a large baking dish and place in the oven until melted, about 5 minutes.
Combine the remaining sugar, flour, baking powder, cinnamon, and salt in a mixing bowl. Mix well.
Whisk together the milk and egg in a separate small mixing bowl.
Slowly combine the milk and egg mixture with the dry ingredients to make a batter
Pour the batter over the melted butter. Do not stir.
Spoon the sliced Pears over the batter. Do not stir.
Bake in the preheated oven until nicely browned and the Pears are tender. If the topping appears to be browning, cover the dish with foil and continue baking until the Pears are tender.
Enjoy the cobbler hot or cold with a scoop of ice cream or whipped cream.
Do you like this recipe?
Download our fruity dessert recipe book for more delicious ideas
PEAR IN JUICE AVAILABLE IN:
400G